As you know, I run another wiki. Which is the OBSCURE WIKI, a wiki about another, similar, horror franchise called "Obscure", which some of you may also know as "Final Exam" or "Mortifilia". The wiki there is a bit of a mess right now, and I could use some people who know their way around editing to help me out. 
A BIT OF HISTORY ABOUT "OBSCURE":
Obscure was started as a "Resident Evil" competitor by french indie studio "Hydravision", which the game served as their first game and breakout title. The game was a financial success, but not critic wise (It got mixed reviews). The game played very similar to Resident Evil Outbreak, as well as the classic RE games. It was fantastic, and starred 5 high school students at their school trying to escape.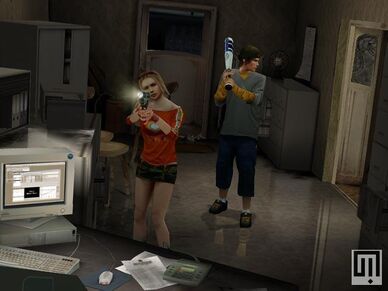 It was released in 2004 for the Playstation 2, Windows and Xbox Platforms, and is one of the only TWO PLAYER Horror Games. 
In 2008, it was followed by a sequel, "Obscure: The Aftermath", this time, the previous survivors are college students. Their school is overrun and they need to help each other, and their new friends, survive. This game played similar to the last game, with two player, but played more like "Resident Evil 4", where it was more linear storywise instead of Adventure in the previous game where you could go back to old locations and explore later. This game was released on PS2, Wii, PC and PSP. 
This was the FINAL game in the original series. 
Later on, in 2013, Obscure: Final Exam, also known as "Final Exam" was released, which is a spinoff platformer horror beat em up for the Windows, PS3 and Xbox 360 platforms. This game got mixed reviews. 
---
Thanks for reading the history lesson! :P
Anyways, I need admins there. So if interested, let me know! Also, if you havent, i HIGHLY recommend you play Obscure and Obscure 2. Both games are available on Steam, as well as Obscure: Final Exam. 
You can also pick up Obscure 2 on PSN for PSP/Vita, and Obscure Final Exam on PSN/XBL for PS3 and 360. 
Ad blocker interference detected!
Wikia is a free-to-use site that makes money from advertising. We have a modified experience for viewers using ad blockers

Wikia is not accessible if you've made further modifications. Remove the custom ad blocker rule(s) and the page will load as expected.