Tragic Dancer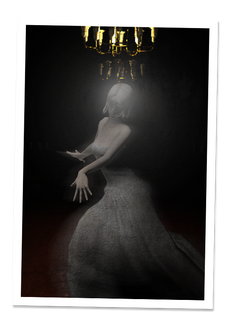 Basic Information
Physical Description
Media
Appearance(s)
DreadOut: KOTD [Game]
The ghost of a graceful dancer who appears at Room 108.
Background
Edit
During her life, she was a beautiful dancer who was very passionate about her art. Her performances always garnered a massive appeal from the crowd. Always elegant and majestic.
Until one tragic day. She had rehearsed a particular piece for a dance tournament. A dance she considered to be her greatest performance yet. However, on her way to the city where the event was held, a driver swerved out of their lane, and hit her car. After her vehicle crashed into a tree she was killed instantly. Her enraged fans blamed the driver who was rumored to be drunk at the time.
Today, residents of the area where she died often see a beautiful woman dancing barefooted in the mists. This lost soul appears to be trying to finish the dance she had prepared years before.
Strategy
Edit
This is basically a survival fight: the Dancer cannot be banished until she finishes her performance; however, you won't be able to enjoy her dance, as she spawns two decayed clones that will do the dirty work for her. Your best option is to keep running around her in a big circle. The clones get more hard to dodge near the end of the dance, so be careful. After the music ends, she will bow and wait until you take her photo.
This ghost somehow has connection with the burned alive couple (As performer on marriage),But its Possible speculation
The place of the dancer is almost coincidence at the ground floor of the Sisters' Mansion .
Ad blocker interference detected!
Wikia is a free-to-use site that makes money from advertising. We have a modified experience for viewers using ad blockers

Wikia is not accessible if you've made further modifications. Remove the custom ad blocker rule(s) and the page will load as expected.