DreadOut
and KOTD (Room 106).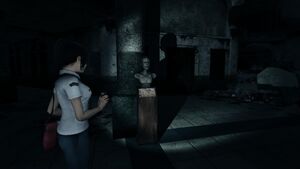 Background
Edit
Little was known about the abandoned school, except there has been a class-wide massive possession incident and a tragic hanging incident of four high school students, this school might have a dark background. Shown by a photo of the past tragedy of four high school girls hanged, it can be seen that the school uniforms are similar to those of which Linda and her classmates wore.
When exploring the town, Linda and the others encounter a rickety old school building. While Ira and Linda waits outside, the others went in the school to "check out the inside". After it suddenly grows dark, the two decide to go in to search for the others as they have been gone for too long. After finding the others and exiting, Ms. Siska finds out that Yayan has gone missing. The group goes back inside, but Ira starts acting strangely. After Ira slumps down after staggering awkwardly towards the exit, the school is swallowed by darkness and Linda is left alone in the lobby, locked in. by herself
Information
Edit
Ghosts that can be encountered in the abandoned School
KOTD Ghosts
Edit
Items found in the School
Documents
Edit
Documents found in the School.
Locations
Edit
Notable locations in the abandoned School.
It is unknown why there are full of mannequins in the School seen in KOTD (Room 106).
he abandoned school is a rickety old building where it was once used to educate students. It's the main setting for Act I of